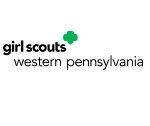 Girl Scouts Western Pennsylvania
Girl Scouts Free Information and Sign-Up Events
Girl Scouts Western Pennsylvania
503 Martindale Street, Suite 500, Pittsburgh, Pennsylvania 15212
Aug. 11th - Oct. 31st
Experience the fun and friendship of Girl Scouts at our free information and sign-up events for girls and their caregivers! Our staff will answer your questions and when you're ready, we'll help your girl get started. Find an event near you using our interactive map.
Join Girl Scouts for just $25 a year.
As a Girl Scout, you'll have the chance to explore the world around you, have a blast, and - most importantly - find the space to be truly, totally yourself. Become a Girl Scout and discover fun and friendship at every turn. Get started today at gswpa.org/join.